Please join us on July 24, 2017 for our 5th annual Temple to Temple run. Steve Lund and Elder Blake Roney would like to invite everyone to join us as we become the largest 5k race in the United States. We need 25,000 participants!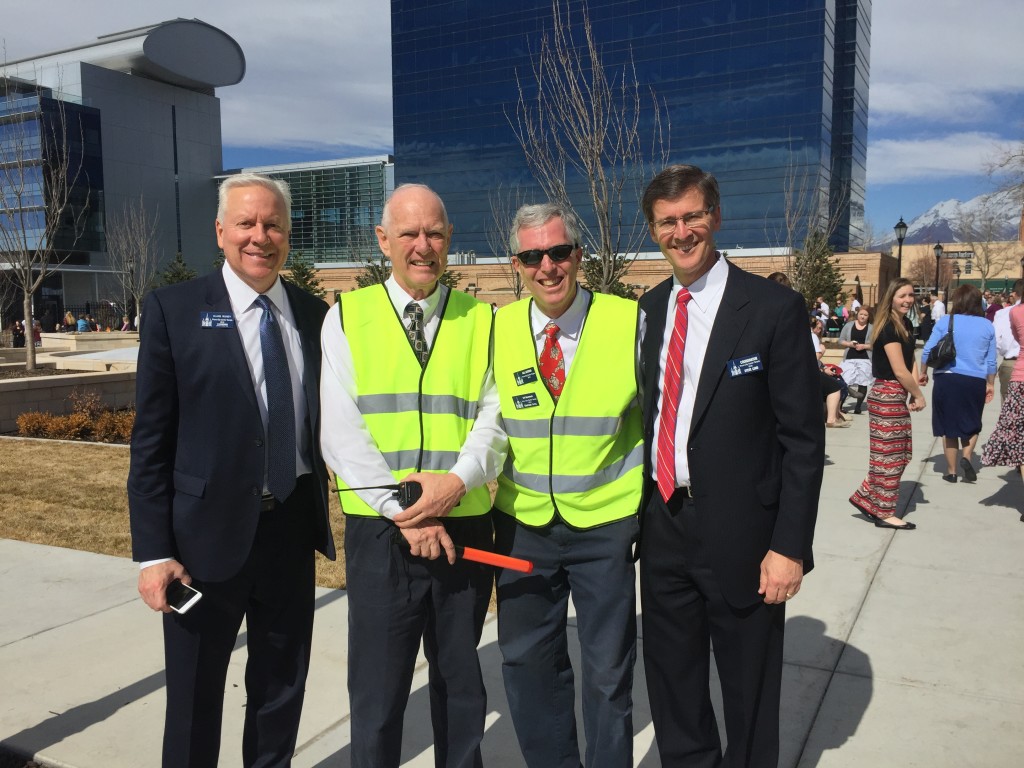 Where?
The Pioneer Day Temple to Temple 5K race begins at the Provo LDS temple and treks through the beautiful streets of Provo city, past the BYU campus, and to the new Provo City Center LDS temple. For a race route map, click here.
When?
The race begins at 8AM on July 24 – Pioneer Day! Festivities will continue until the last "pioneers" make it to the finish line. Run for free, get a shirt for $9, or a shirt and a race chip for $13. All participants must register by clicking here.
Who?
We invite men, women, and children of all ages and running abilities to participate! Walk the 5K with your family, or even while pushing a stroller. We invite LDS members and non-members alike to join us on this historic day.
#T2TRun
Largest Race in Utah!
We'd like to thank Provo City and BYU for allowing us to continue this annual tradition. Last year we had over 17,000 participants. Permits are secured, and registration is open early enough to allow us time to hit our goal of 25,000 participants! That's right, 25,000! With your help, we will be the largest 5k race in the United States!
Registration Details & Information
Registration for the 2017 Temple to Temple Run is currently open. Each participant is required to register whether you are an elite runner or a family that prefers to walk the race route. As always, registration is 100% FREE. Prior to race day, each registered runner will receive a race bib, which you must wear in order to participate on race day. We have streamlined the process for participants to pick up bibs, timing chips, and t-shirts next year. These items will be available on July 21st from 12pm – 9pm and July 22nd from 9am to 6pm at the Provo Freedom Stake Center (835 S 500 W, Provo) as well as 6am on race day at the starting line.
Transportation & Parking
This year, we have arranged for buses to start at 6:30 am at the finish line and transport participants to the starting line. We encourage you to use the parking areas in the downtown Provo area, including the County Buildings, and the parking areas around the Provo Temple, near the starting line. The buses will run until 10:30 am, after the race to transport drivers back to the starting line to retrieve vehicles. The pick up and drop off areas will be near the LDS Church building at 200 S and 100 East and the Southwest corner of the Provo Temple.
Important Info
The race will begin at 8 am. We will be staggering start times due to the number of people that are participating. Participants with Timing Chips will be allowed to begin first. Groups that include participants pushing strollers, pulling wagons and those on scooters or using other wheeled forms of transportation, will be asked to wait until the majority of the runners and non wheeled participants have cleared the starting area. We are expecting over 10,000 people this year. Please help us to keep the course safe by following these guidelines. PLEASE PLEASE keep youngster on scooters near you. 90% of lost children and injuries last year were a result of scooter riders. If this year isn't better, we will be forced to ban scooters from the race route.
The starting line is near the corner of North Temple Dr (2300 North) and 1200 East. This is the Northeast corner of the Provo Temple. Please allow plenty of time to get to the starting area. We ask that you queue up to the starting area via Temple View Drive, 2300 North or 1200 East. At 6:30 am, access to North Temple Dr from 900 E to 1200 East will be closed.
What You Get
FREE Registration – Commemorative Temple to Temple race bib.
$9 Registration – Commemorative Temple to Temple race bib, t-shirt.
$13 Registration – Commemorative Temple to Temple race bib, t-shirt, & timing chip.
Thanks To Our Donors
We would like to thank LDSBookstore.com, Zions Bank, Clif Bar, Franz Bakery, and Utah Barricade for helping with our race this year. They will be providing water, and sample energy bars during the race and at the finish line.
Message From Provo Freedom Stake
President Michael Merz of the Provo Freedom Stake is encouraging each of last year's participants to invite (and bring) one new friend, family member, coworker, etc, to run this year. He also hopes that every runner will continue the tradition by running, or walking in honor of an ancestor. President Ben Larson of the Provo South Stake is excited to continue the tradition and will be participating with his family. If you have any questions, please contact us.
Be sure to follow us on Facebook for more information and updates!
Temple to Temple Fireside
This year's fireside will be held on Sunday, July 23 at 7:00 pm at the Freedom Stake Center located at 835 S 500 W, Provo. This year's fireside speakers will be John C Hodgman, President of the Provo Utah Mission, Allen Carlsen Ostergar Jr., President of the Provo City Center Mission and Max Esplin, 1st counselor in the Provo Temple Presidency and their wives.